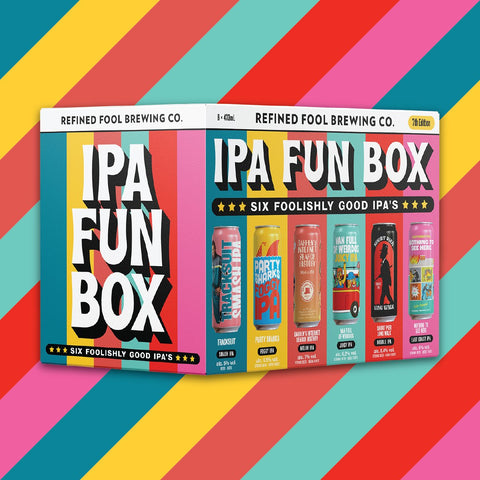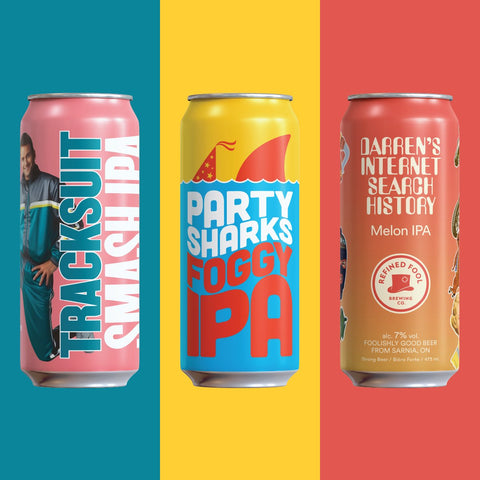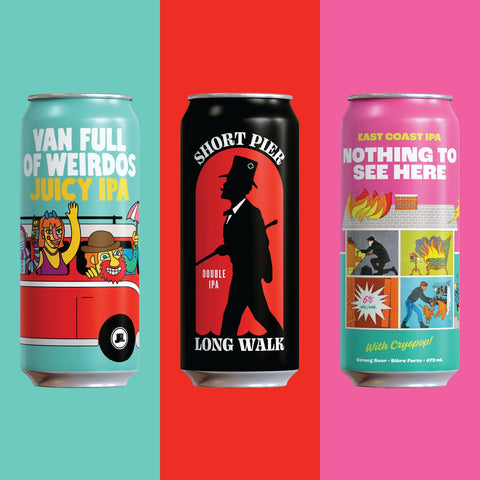 IPA Fun Box (7th Edition)
Six Foolishly Good IPA's
The 7th edition of Ontario's best-selling IPA Fun Box has arrived! Six wonderful IPA's, all tucked shoulder to shoulder in a convenient, ergonomically sound little package.
👟 Tracksuit — 5% SMaSH IPA: This pale, creamy, slightly hazy crusher brewed with Nectaron hops provides a welcoming face punch of passion fruit, peach, grapefruit and pineapple with almost zero bitterness.
🦈 Party Sharks — 6.5% Foggy IPA: Ultra hazy, silky smooth, fruit-forward. A tropical hop experience with Citra, Mosaic, and Galaxy, intended for parties of all shapes and sizes.
👨‍💻 Darren's Internet Search History — 7% Melon IPA: Brewed with Belma, Cashmere and Enigma hops, this IPA is bursting with flavours of sweet fruit and melon.
🚐 Van Full of Weirdos — 6.2% Juicy IPA: A Simcoe-heavy IPA packed with bright tropical aromas and brilliant peach and citrus flavours.
🚶‍♀️ Short Pier, Long Walk — 8.4% Double IPA: This classic West Coast DIPA has a calm malt backbone making way for a maelstrom of rich, earthy and devastatingly tasty hops (Simcoe, Centennial, Columbus).
🫣 Nothing to See Here — 6% East Coast IPA: This juicy chaos in a can is brewed with Cryopop, a supercharged hop with notes of peach, pineapple, grapefruit and even a hint of daiquiri.

Local Delivery & Shipping
🚚 FREE local delivery over $25
❤️ FREE Ontario shipping over $125
🇨🇦 We ship across Canada

Drink Fresh
Beer is meant to be consumed fresh and the longer it sits, the further it gets from its intended taste.
We're obsessed with making sure the freshest and tastiest version makes it into your hands. Learn more →