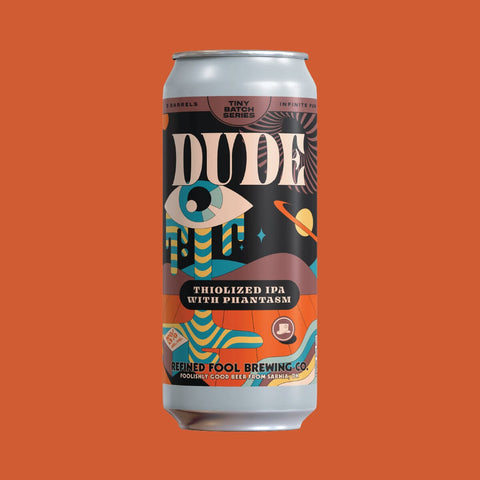 Dude
Thiolized IPA with Phantasm
This IPA has a bunch of trip inducing characteristics swirling around in it, including a unique yeast known as Thiol Libre which helps to unleash previously inaccessible tropical aromas. In addition, the incredibly rare Phantasm powder, made from New Zealand Sauvignon Blanc grape skins, releases a ton of thiols (aka a huge boost of grapes, guava, and passion fruit).
A limited number of breweries have had the chance to brew with Phantasm powder, which also means a very small percentage of people have even tried a beer containing it. Apparently they only send it to "cool" breweries (which is why we lied and said we were Bellwoods on our application).

From our Tiny Batch Series
Brewed on our 3-barrel pilot system, each batch will yield around 300 litres, which means they will only be around for a tiny amount of time. No pressure...

Local Delivery & Shipping
🚚 FREE local delivery over $25
❤️ FREE Ontario shipping over $125
🇨🇦 We ship across Canada

Drink Fresh
Beer is meant to be consumed fresh and the longer it sits, the further it gets from its intended taste.
We're obsessed with making sure the freshest and tastiest version makes it into your hands. Learn more →