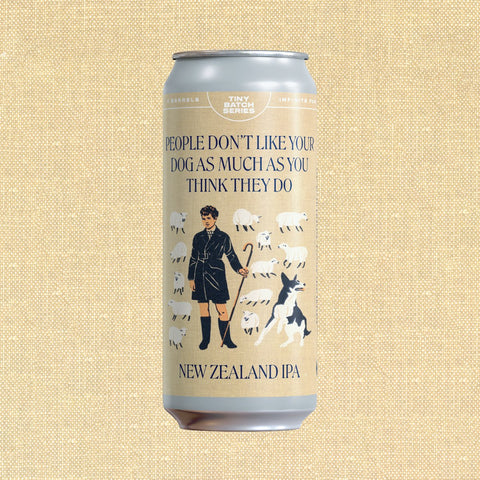 People Don't Like Your Dog as Much as You Think They Do
New Zealand IPA
This IPA is a New Zealand version of our classic Pouch Envy. Reenvisioned with the newest hop varieties coming out of New Zealand: Kohatu, Motueka and Wai-iti. It's an easy-drinker bursting with fresh tropical fruit and citrus.
And we know you are thinking about bringing your dog to the family reunion this weekend because "everybody likes him"... Aunt Joanne doesn't. Neither does your cousin Josh. Stop, reflect, and have a beer.

From our Tiny Batch Series
Brewed on our 3-barrel pilot system, each batch will yield around 300 litres, which means they will only be around for a tiny amount of time. No pressure...

Local Delivery & Shipping
🚚 FREE local delivery over $25
❤️ FREE Ontario shipping over $125
🇨🇦 We ship across Canada

Drink Fresh
Beer is meant to be consumed fresh and the longer it sits, the further it gets from its intended taste.
We're obsessed with making sure the freshest and tastiest version makes it into your hands. Learn more →