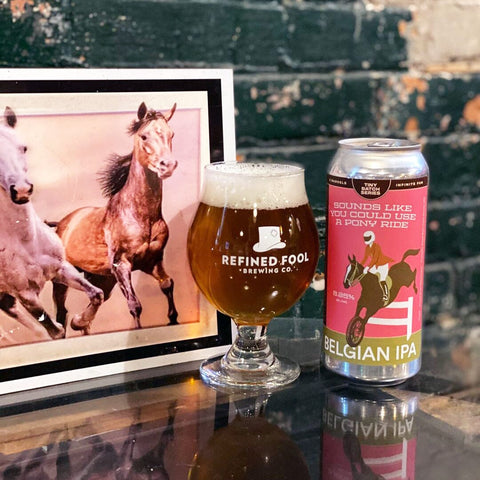 Sounds Like You Could Use a Pony Ride
Belgian IPA
This complex fall sipper utilizes belgian ale yeast for a classic spicy, fruity backbone. A light malt base consisting of pilsner and biscuit coupled with noble hops from Germany round out the brew, creating a beer that's way too easy drinking for its abv.
And yes we know what you're thinking, those probably aren't ponies in the picture. We are ashamed of our limited pony/horse/stallion/clydesdale/donkey taxonomy knowledge, please spare us your judgement.

From our Tiny Batch Series
Brewed on our 3-barrel pilot system, each batch will yield around 300 litres, which means they will only be around for a tiny amount of time. No pressure...

Local Delivery & Shipping
🚚 FREE local delivery over $25
❤️ FREE Ontario shipping over $125
🇨🇦 We ship across Canada

Drink Fresh
Beer is meant to be consumed fresh and the longer it sits, the further it gets from its intended taste.
We're obsessed with making sure the freshest and tastiest version makes it into your hands. Learn more →