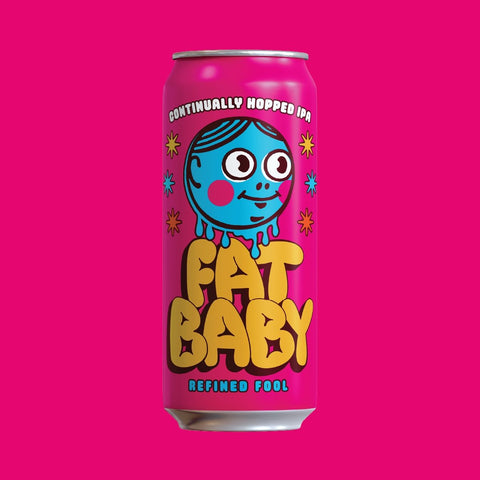 Fat Baby
Continually Hopped IPA
Everyone loves a Fat Baby. Whether you like ours or not is up to you but it would be rude not to pretend its cute at the very least.
Fat Baby is a Continually Hopped IPA, meaning it's fed generous hop additions at every possible moment during the course of the brew. Hops are added at 13 different points: mash, first runnings, 90 min, 75 min, 60 min, 45 min, 30 min, 15 min, 0 min, whirlpool, and three separate dry hops.
Apollo, Simcoe, and Zythos hops take centre stage, creating a piney, resinous, citrus-heavy bitter beast that will have you crying for more.

Local Delivery & Shipping
🚚 FREE local delivery over $25
❤️ FREE Ontario shipping over $125
🇨🇦 We ship across Canada

Drink Fresh
Beer is meant to be consumed fresh and the longer it sits, the further it gets from its intended taste.
We're obsessed with making sure the freshest and tastiest version makes it into your hands. Learn more →