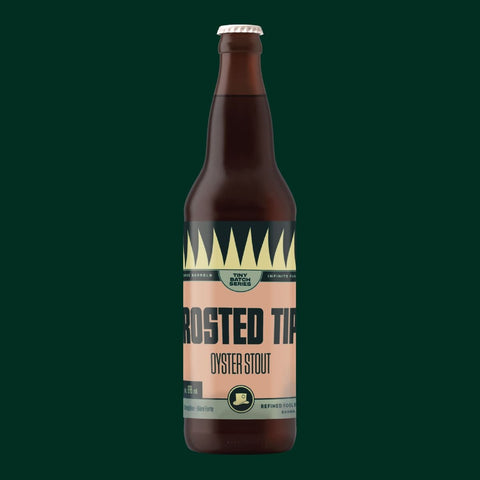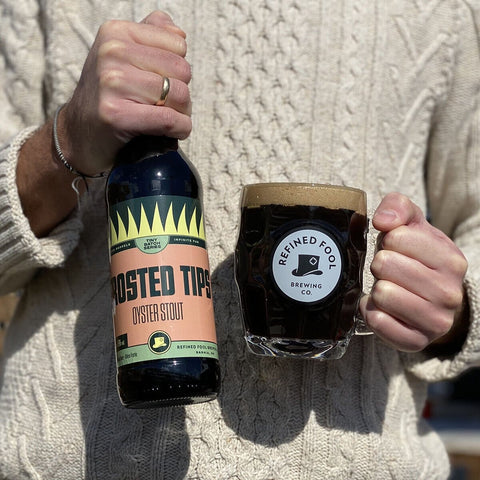 Frosted Tips
Oyster Stout
Oyster stout? Yes. With actual oysters? Yes. We added 150 of those bad boys to this 300 litre brew. Don't worry, there's no fishy flavours, just a unique briny backbone that complements the chocolate and roasted malt base perfectly.
This style has roots going all the way back to Victorian England when many pub-goers pounded back oysters on the half shell while sipping their favourite beers.
And we are sure you have already picked up on the name connection as it's no secret that all five members of N'Sync were originally oyster farmers, singing and dancing in sequence on their ship while hauling in netfuls of mollusks.

From our Tiny Batch Series
Brewed on our 3-barrel pilot system, each batch will yield around 300 litres, which means they will only be around for a tiny amount of time. No pressure...

Local Delivery & Shipping
🚚 FREE local delivery over $25
❤️ FREE Ontario shipping over $125
🇨🇦 We ship across Canada

Drink Fresh
Beer is meant to be consumed fresh and the longer it sits, the further it gets from its intended taste.
We're obsessed with making sure the freshest and tastiest version makes it into your hands. Learn more →