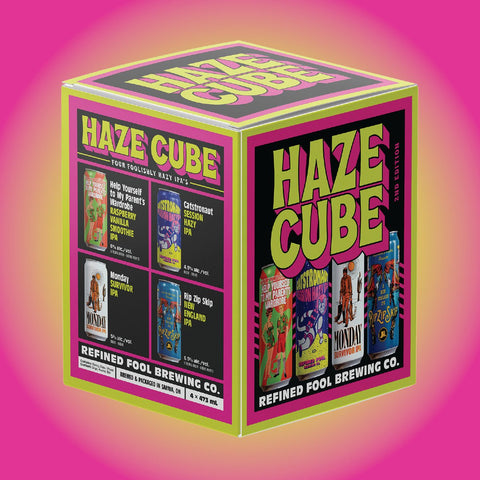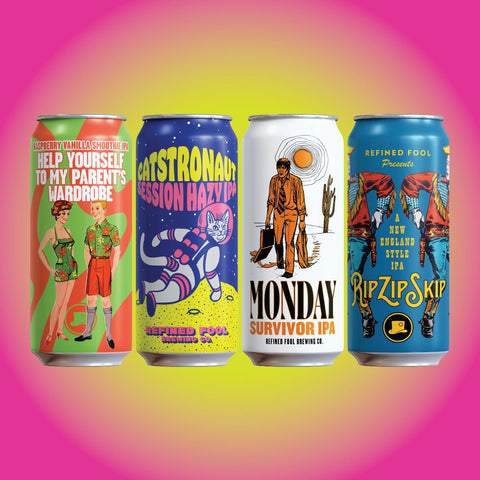 Haze Cube: 2nd Edition
Four Foolishly Hazy IPA's
If you happen to like your IPA's fresh, opaque and packed in cubes, boy have we got a treat for you! The second edition of our Haze Cube features four foolishly hazy IPA's that'll make your taste buds do the happy dance.
🕺🏻 Help Yourself to My Parent's Wardrobe — 6% Raspberry Vanilla Smoothie IPA: A thick and hazy IPA made with real raspberries and vanilla, lactose, a bevy of oats and big fruity hops.
🐈 Catstronaut — 4.5% Session Hazy IPA: An easy-drinking golden-hazed beauty. Dominated by citrus and tropical notes, it's smooth-bodied and well balanced.
👔 Monday — 5% Survivor IPA: Celebrates the beer-solulable oil components of hops which have a high impact on finished beer aroma—commonly referred to as "survivable" compounds. Yes, it's super nerdy. But thanks to those survivors, it's also super tasty.  
🤠 Rip Zip Skip — 6.5% New England IPA: A classic east coast hazy IPA that's juiced up with Galaxy, Comet and BRU-1 hops.

Local Delivery & Shipping
🚚 FREE local delivery over $25
❤️ FREE Ontario shipping over $125
🇨🇦 We ship across Canada

Drink Fresh
Beer is meant to be consumed fresh and the longer it sits, the further it gets from its intended taste.
We're obsessed with making sure the freshest and tastiest version makes it into your hands. Learn more →