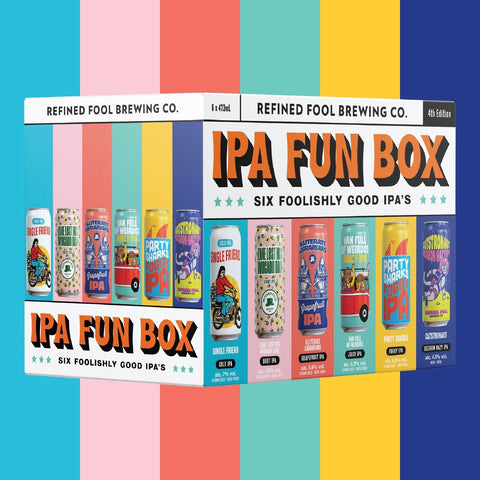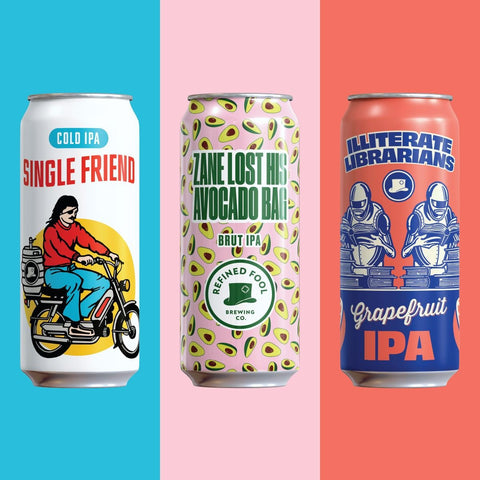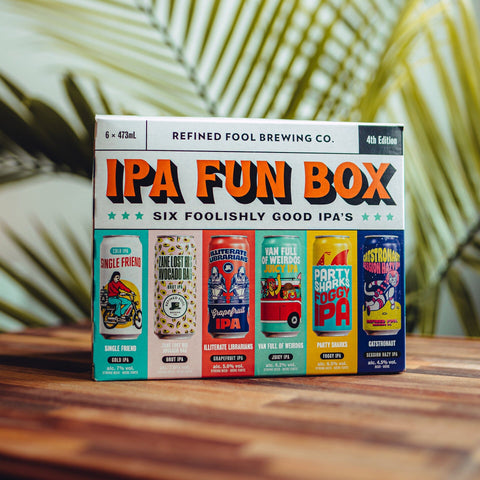 IPA Fun Box (4th Edition)
Six Foolishly Good IPA's
The 4th edition of our IPA Fun Box is here! Six magical IPA's, all tucked shoulder to shoulder in a convenient, ergonomically sound, little package.
🛵 Single Friend — 7% Cold IPA: An innovative beer unbound by the rules of regular IPA's. Crisper, cleaner, and curiously crushable, this cold-filtered and lagered stag rides alone.
🦈 Party Sharks — 6.5% Foggy IPA: Ultra hazy, silky smooth, fruit-forward. A tropical hop experience intended for parties of all shapes and sizes.
🐈 Catstronaut — 4.5% Session Hazy IPA: An easy-drinking golden-hazed beauty. Dominated by citrus and tropical notes, it's smooth-bodied and well balanced.
📚 Illiterate Librarians — 5.6% Grapefruit IPA: An American style IPA featuring five different hop varieties and packed with heaps of real grapefruit.
🚐 Van Full Of Weirdos — 6.2% Juicy IPA: A Simcoe-heavy IPA packed with bright tropical aromas and brilliant peach and citrus flavours.
🥑 Zane Lost His Avocado Bag — 7.6% Brut IPA: Light body, high carbonation, low hop bitterness, and a dry finish makes this champagne-like IPA is a pure delight.

Local Delivery & Shipping
🚚 FREE local delivery over $25
❤️ FREE Ontario shipping over $125
🇨🇦 We ship across Canada

Drink Fresh
Beer is meant to be consumed fresh and the longer it sits, the further it gets from its intended taste.
We're obsessed with making sure the freshest and tastiest version makes it into your hands. Learn more →