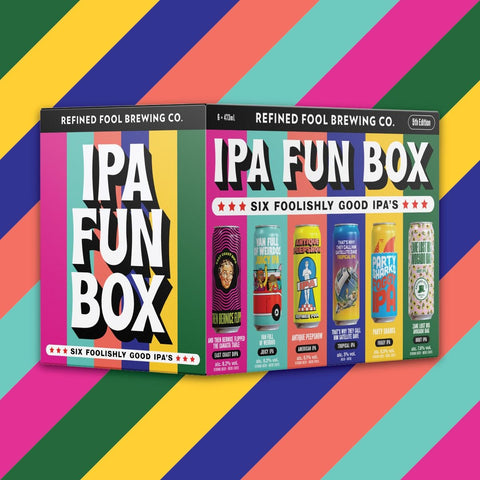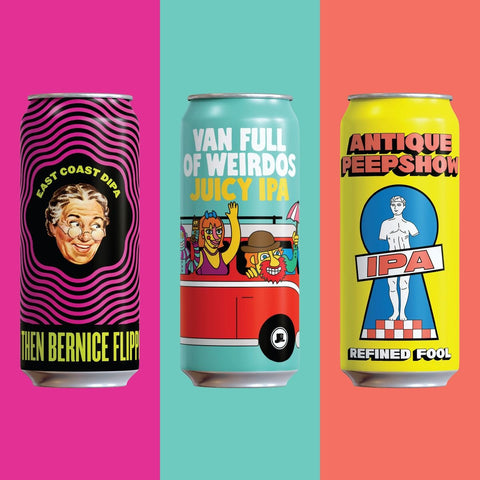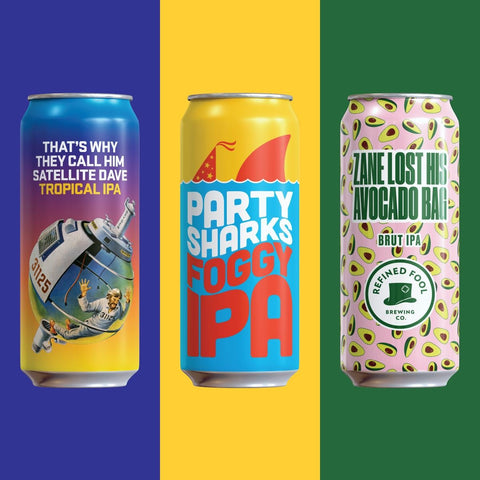 IPA Fun Box (5th Edition)
Six Foolishly Good IPA's
The 5th edition of our IPA Fun Box is here! Six magical IPA's, all tucked shoulder to shoulder in a convenient, ergonomically sound, little package.
👵🏻 That's When Bernice Flipped the Canasta Table — 8.2% East Coast DIPA: Settle in for a glass of this well-rounded East Coast DIPA. Aggressively hopped with Amarillo, Citra, and Simcoe hops, this beer will surprise you with every cloudy sip.
🚐 Van Full Of Weirdos — 6.2% Juicy IPA: A Simcoe-heavy IPA packed with bright tropical aromas and brilliant peach and citrus flavours.
👀 Antique Peepshow — 6.1% IPA: One of the very first IPA's we ever made has finally returned. This classic American IPA is high on hop bitterness with a delicate caramel backbone. Quit your peepin' and start your drinkin'.
🛰 That's Why They Call Him Satellite Dave — 5% Tropical IPA: This super fruity crusher is hopped with Galaxy, Mosaic and El Dorado, creating huge flavours of passion fruit, peach, and pineapple.
🦈 Party Sharks — 6.5% Foggy IPA: Ultra hazy, silky smooth, fruit-forward. A tropical hop experience intended for parties of all shapes and sizes.
🥑 Zane Lost His Avocado Bag — 7.6% Brut IPA: Light body, high carbonation, low hop bitterness, and a dry finish makes this champagne-like IPA is a pure delight.

Local Delivery & Shipping
🚚 FREE local delivery over $25
❤️ FREE Ontario shipping over $125
🇨🇦 We ship across Canada

Drink Fresh
Beer is meant to be consumed fresh and the longer it sits, the further it gets from its intended taste.
We're obsessed with making sure the freshest and tastiest version makes it into your hands. Learn more →