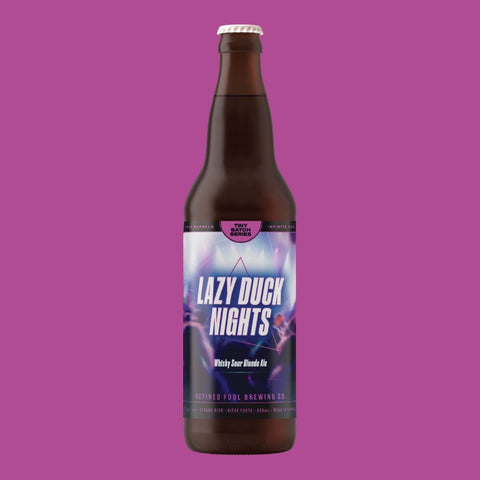 Lazy Duck Nights
Whisky Sour Blonde Ale
Named in honour of a bygone local dance club, this cocktail of a beer combines fresh lemon rind and Lemondrop hops with bourbon and oak flavours to create a bright and boozy way to start (or end) your night.
It should take you right back to your clubbing glory days. (And by that we mean waiting in line in arctic temps, ordering some Jag bombs, hitting the floor for a nice Eiffel 65 dance sesh, and soon after getting bounced right back to the street).

From our Tiny Batch Series
Brewed on our 3-barrel pilot system, each batch will yield around 300 litres, which means they will only be around for a tiny amount of time. No pressure...

Local Delivery & Shipping
🚚 FREE local delivery over $25
❤️ FREE Ontario shipping over $125
🇨🇦 We ship across Canada

Drink Fresh
Beer is meant to be consumed fresh and the longer it sits, the further it gets from its intended taste.
We're obsessed with making sure the freshest and tastiest version makes it into your hands. Learn more →