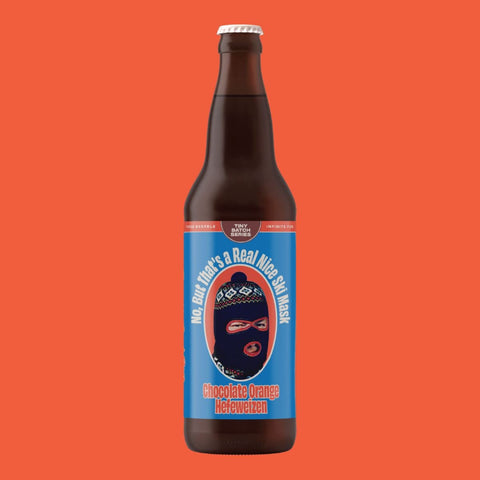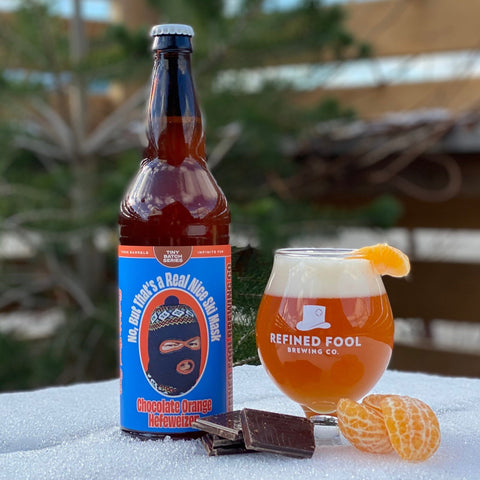 No, But That's a Real Nice Ski Mask
Chocolate Orange Hefeweizen
So he says "Do you love me?" and she says...
"No, But That's a Real Nice Ski Mask" is our newest Tiny Batch Series release and it's sure to be the punchline of all your holiday gatherings. This muddled orange Hefeweizen features massive chocolate and citrus additions, flavours that mingle perfectly with the trademark Hefe notes of banana and clove.
Pairs best with a Christmas sweater and a group of friends that will provide uproarious laughter, no matter the joke quality.

From our Tiny Batch Series
Brewed on our 3-barrel pilot system, each batch will yield around 300 litres, which means they will only be around for a tiny amount of time. No pressure...

Local Delivery & Shipping
🚚 FREE local delivery over $25
❤️ FREE Ontario shipping over $125
🇨🇦 We ship across Canada

Drink Fresh
Beer is meant to be consumed fresh and the longer it sits, the further it gets from its intended taste.
We're obsessed with making sure the freshest and tastiest version makes it into your hands. Learn more →