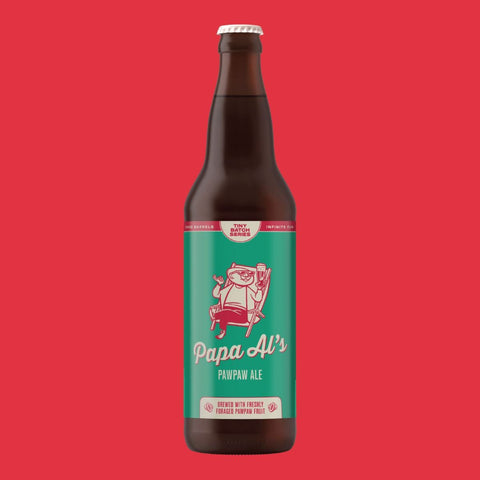 Papa Al's
Pawpaw Ale
Do you know what pawpaw fruit is? If yes, skip the next paragraph. If no, read on and get ready for a thrill ride.
Pawpaws grow on trees that are native to Southwestern Ontario (with many trees right here in Sarnia). The distinct tropical flavour is a unique and magical combination of mango, banana, and citrus.
Welcome back those of you who skipped the previous 2 sentences. Papa Al's Pawpaw Ale was brewed with huge amounts of freshly foraged pawpaw fruit providing pleasant notes of banana and melon. A Belgian yeast was used, leading to a bright, clean finish that scrubs the palette with a spritzy carbonation.
Be sure to forage for yours soon—this beer was brewed as part of our Tiny Batch Series and won't last long.

From our Tiny Batch Series
Brewed on our 3-barrel pilot system, each batch will yield around 300 litres, which means they will only be around for a tiny amount of time. No pressure...

Local Delivery & Shipping
🚚 FREE local delivery over $25
❤️ FREE Ontario shipping over $125
🇨🇦 We ship across Canada

Drink Fresh
Beer is meant to be consumed fresh and the longer it sits, the further it gets from its intended taste.
We're obsessed with making sure the freshest and tastiest version makes it into your hands. Learn more →