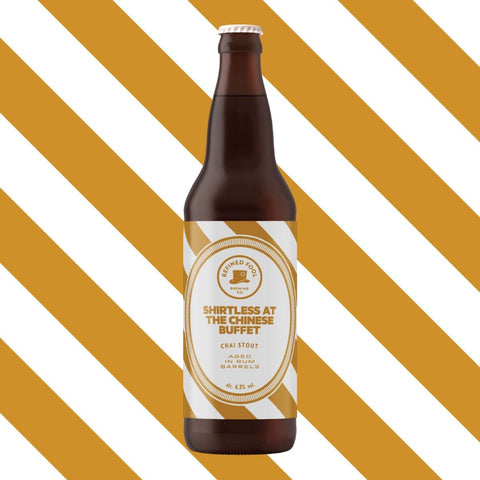 Shirtless at the Chinese Buffet
Chai Stout aged in Rum Barrels
This beer started it's life as Cincinnati Left - our Chai Stout. Barrel aging the chai stout in Rum Barrels allows the delicate chai spices to meld with the sweetness of the Rum. The roasty malt backbone of the stout slowly took on some sherry notes, as the beer was allowed to oxidize in the barrels over time.

Local Delivery & Shipping
🚚 FREE local delivery over $25
❤️ FREE Ontario shipping over $125
🇨🇦 We ship across Canada

Drink Fresh
Beer is meant to be consumed fresh and the longer it sits, the further it gets from its intended taste.
We're obsessed with making sure the freshest and tastiest version makes it into your hands. Learn more →