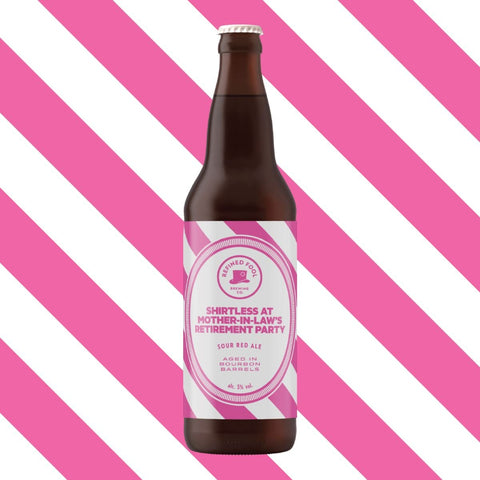 Shirtless At Your Mother-In-Law's Retirement Party
Sour Red Ale
This beer started as a normal red ale, but just like your Mother In Law it dialed up the funk later in it's life. It spent 6 months in a bourbon barrel and had a secondary pitch of a Brettanomyces blend to give it it's sour notes. Pouring a dark ruby red, the aromatics of this beer pop from the glass. Ripe Strawberry, pear and apple give way to an underlying funk. This sour ale finishes dry, with a fruity aftertaste that coats the mouth and pleasantly lingers on.

Local Delivery & Shipping
🚚 FREE local delivery over $25
❤️ FREE Ontario shipping over $125
🇨🇦 We ship across Canada

Drink Fresh
Beer is meant to be consumed fresh and the longer it sits, the further it gets from its intended taste.
We're obsessed with making sure the freshest and tastiest version makes it into your hands. Learn more →