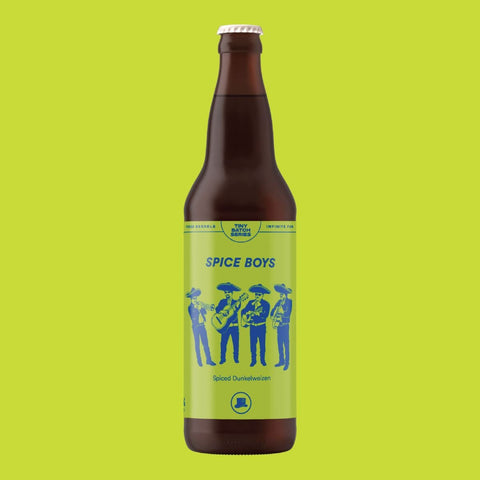 Spice Boys
Spiced Dunkelweizen
Following tradition, this German Dunkelweizen is brewed with classic wheat, Vienna and dark Munich malts, Hallertau hops, and a yeast bursting with clove and banana aromas.
However, to "spice things up a bit", as they say, we threw in some Muscovado sugar (unrefined cane sugar) and cold brew coffee... very exciting! It's the kind of unpredictable artistry and raw creative performance you'd expect from any band going around calling themselves the Spice Boys.

From our Tiny Batch Series
Brewed on our 3-barrel pilot system, each batch will yield around 300 litres, which means they will only be around for a tiny amount of time. No pressure...

Local Delivery & Shipping
🚚 FREE local delivery over $25
❤️ FREE Ontario shipping over $125
🇨🇦 We ship across Canada

Drink Fresh
Beer is meant to be consumed fresh and the longer it sits, the further it gets from its intended taste.
We're obsessed with making sure the freshest and tastiest version makes it into your hands. Learn more →