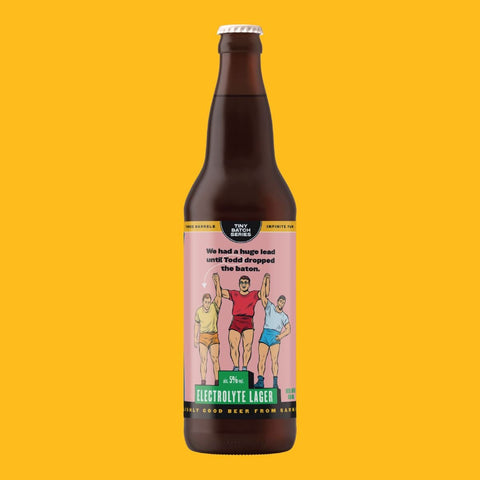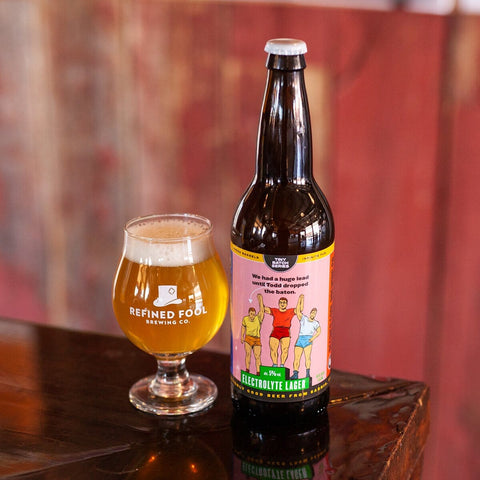 We Had a Huge Lead Until Todd Dropped the Baton
Electrolyte Lager
We've brewed an athlete's dream—a beer that tastes like it's hydrating* you.
Brewed with an exorbitant amount of thirst quenching Glacier Freeze powder, this clean, crushable lager is ready for the sidelines.
*This beer does not actually hydrate you in any way, and if anything it is dehydrating you severely. But you will be able to jump higher after drinking it.**
**No you won't.

From our Tiny Batch Series
Brewed on our 3-barrel pilot system, each batch will yield around 300 litres, which means they will only be around for a tiny amount of time. No pressure...

Local Delivery & Shipping
🚚 FREE local delivery over $25
❤️ FREE Ontario shipping over $125
🇨🇦 We ship across Canada

Drink Fresh
Beer is meant to be consumed fresh and the longer it sits, the further it gets from its intended taste.
We're obsessed with making sure the freshest and tastiest version makes it into your hands. Learn more →